August 24, 2017
13 Questions to Gauge Your Digital Marketing Strategy
Small to mid-size Business owners are some of the most legitimate, real-world superheroes I know of.
They often don't employ full-time specialists (marketing, accounting, sales, operations, production etc.) and likely have the unheralded task of doing it all (and I do mean, all).
If that's you, digital fist-bump, my friend.
Perhaps one of the most essential and overwhelming components business owners face is where, how, and when to allocate their marketing budget (if they even have one), and after having done so, was it even a success.
With the tidal-wave like shift from traditional to digital marketing today, it can get even more confusing. So many tools, so many options.
Throughout the rest of this article, I've assembled 13 questions designed to get you moving in the right direction, including a bonus set of questions at the end designed to act as a "strainer" for any potential marketing service you as the business owner are pitched, and you MUST be asking these questions.
Let's begin.
Part I: Why A Digital Marketing Strategy Matters to Your Business
In the rare case where a business is not actively seeking new customers, it's imperative that you have a consistent, customer-centric digital marketing strategy.
First, because "digital" is where your customers are. The web is where your customers are researching, socializing, playing and truthfully, burning time.
Let's hit the numbers for a second.
According to data from smartinsights.com, there are 6,586,014,574 searches made per day, worldwide. Read that number again. Woah.
Bringing home the relevancy to your business even more, the graph below shows the upward trend in search volume of mobile vs desktop searches, specifically in reference to local search: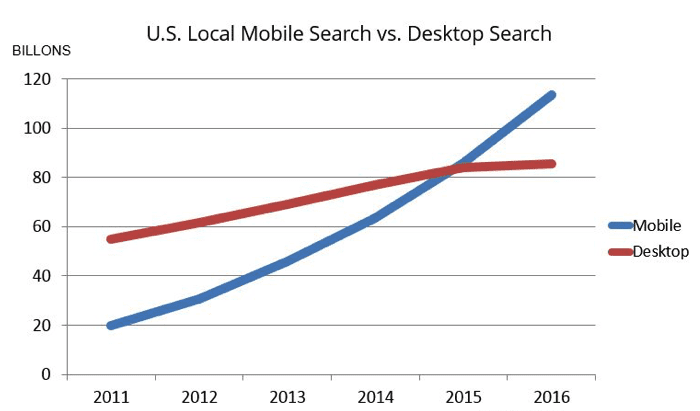 Is yours a brick & mortar? This should hit home.
This, quote, from the same article:
"more Google searches take place on mobile devices than on computers in 10 countries including the US and Japan".
Think about your own behavior for a moment.
Much like your customers, I presume, you demand instant information, quick results, and a resolution to your problem/interest/desire.
Your potential customer is an impatient one, and the world is catering to the mindset. Look at business around you and the tools/services that have not only become available, but expected:
Same-day delivery service
Apps that eliminate waiting for a date, a cab ride, or a restaurant reservation
Streaming Movies or TV shows available in seconds
Societal implications for catering to or encouraging this demand-type mindset aside, what does this mean for your business?
This means you need to be asking, "am I positioned to be helpful" for your potential customer?
Section I Questions; assessing your digital building blocks.
Can customers find your business, especially when looking specifically for you?
Have you claimed & optimized your local business listings (Yelp, Google My Business, industry specific directories, etc.)?
Are you actively seeking reviews in an effort to grow social proof?
Does your website have answers to your customers commonly asked questions?
Is your website responsive (one website that works across all devices and platforms)?
Are you aware of your competitors and their strategy?
These are just some thousand-foot view questions we ask when auditing any online business presence, but they are indeed low hanging, crawl-before-you-walk action points.
Part II: Having a Goal for Your Digital Marketing Strategy
There's a George Harrison song titled Any Road, that says "If you don't know where you're going, any road will take you there".
This is as true of marketing as it is of life (deep, huh?).
Any digital marketing campaign, no matter the channel (Google, Facebook, Email), begins with understanding the ultimate goals of your business.
Before diving headfirst into writing blog posts, creating videos, boosting posts, ask of yourself, what is it that you expect of these efforts?
Some common marketing campaign objectives to consider (and these are not mutually exclusive, as campaigns often include numerous combinations of these line items):
Lead generation (you want prospects to talk to via email, phone, etc.)
Brand Awareness (you want more people to know about you)
Engagement (you want to encourage interaction, usually online)
Repeat Business (you want current customers to buy/visit more)
Local Search Rankings (you want to be found for key search phrases)
Make a Purchase (this can be online, over the phone, or in store)
Of course, the purchase is for any business, the ultimate goal. But just like the savvy gentleman or lady you are, you would not propose marriage on the first date. Likewise, it's not always a straight line from A to B, or from introduction to sale for your customer.
(The caveat here would be people seeking emergency services like towing, a broken furnace in the winter, or locksmith services.)
Section II questions; know where you're going.
What current marketing campaigns are you running, if any (mail, radio, TV, magazines, online)?
Do you have desired outcomes and metrics attached to those campaigns (store traffic, website visits, phone calls, etc.) to know whether they are effective or not for you?
Do you understand the financial implications of your campaigns? Are you ROI positive?
If these questions have you scratching your head and pointing at the guy next to you, it might be time to hit pause on your  current efforts.
Part III: Aligning Your Digital Marketing Goals With Your Customer's Journey
You've likely seen some version of the below illustration, outlining the consumer journey:
Customers, yourself included, move through this funnel in varying ways and at differing speeds. They can also come and go, re-enter, and go again.
An effective digital campaign considers these steps, and acts accordingly to provide the right message at the right time, assisting the buyer along the way.
The AIDA Components:
Awareness: a customer is made aware of your brand or business and the products or services you provide.

Interest: The customer begins to develop interest in your product or service, contemplating the benefits of your product or service as it pertains to their pain points or needs.

Desire: The customer begins to envision themselves benefiting from your business, enjoying the transformation that your service or product provides. Interest transforms to desire.

Action: The customer responds to a call to action and interacts with your business, either in the form of a phone call, an email, a store visit or an online chat session. They are most primed for the sale at this point.
Why does AIDA matter to you?
The components of this journey are so well-studied, and the human experience so consistent, that this model applies to virtually any business type.
Roofing companies, dental practices, legal services, chiropractic care…their customers are identical in this respect.
One thing to consider as you plan your digital strategy, is that the speed at which customers journey through this funnel can vary greatly.
Price point and type of relationship have a lot to do with this. Someone ordering a cheese pizza for their family on a Friday night while on vacation could travel through this funnel in 10 minutes.
A mother considering orthodontic care for their child could take weeks or months, consulting numerous outside sources (referrals, reviews, their budget, etc.) before arriving at a decision.
This highlights why it is so essential to not only understand the journey and considerations of your customer, but to create the necessary supporting content (videos, blog posts, FAQ's, resources) to help them through it.
Real world example: Google "what size air conditioner do I need". I did this, and the very first organic result was and article titled "What size Central Air Conditioner do I need for my house".
This article was a ridiculously thorough, way more than I actually needed article about how to choose the right AC for my home.
While they don't cover my service area (they are local to the west coast), you'd better believe the same question is being asked out there on Google, and they in a prime spot to help.
Section III questions:
Can you roughly map out your customer journey? From first touch to "yes", what happens?
Does your brand offer a consistent experience for all prospects who go through this journey with you?
Have you surveyed customers to identify possible sticking or fall-off points in the journey so you can plug the gaps?
Do a digital audit of your brand; are you resource rich or poor? Are you helpful?
Preparing for Digital Success; Your Next Steps
How did you score on the questions in each section? While success is measured in different ways in different industries, most of the questions above are generic enough to be applicable to any business.
Local or national, mom & pop, big or small, if your business is pursuing growth or simply consistent customer acquisition, you need a digital strategy.
The size and scope of this strategy will vary based on industry, goals or budgets, but the spirit of the concept remains the same.
In closing, I'd offer a word of warning to the hesitant or skeptical business owner who says "this isn't for me"; if your business relies solely on walk-in traffic or word-of-mouth referrals, I'd submit you are playing a risky game.
Your strategy is that you really don't have a strategy. You may very well have built a nice business and turned a profit with this approach, but what happens if a new competitor comes to town who is cheaper, bigger, or offers more?
What if a new trend or methodology disrupts the marketplace?
Do you have a traffic model to turn to when you need the injection of new customers or patients?
*Bonus Questions*
The first 13 questions in this article are designed as sort of an internal audit for would-be-marketers. These next 15 are formulated as a sort of defense-mechanism for your business as you consider new potential advertising outlets.
Next time you are approached by a company selling advertising exposure (a newspaper, magazine, directory, coupon book, online ads etc.), have this list of questions handy. They'll act as a filter to weed out wasteful spending:
What is your circulation size? How many readers/viewers/subscribers/website visitors do you have?
If it's a physical publication, how many copies are distributed and to what zip codes?
What demographic and psychographic data can you provide me with? Male vs. Female, household income, interests, purchase behavior, children, etc.
What are some successful case studies you can provide me with? (success is measured differently by brands…specify what kinds of results you are interested in and ask for a case study/example that is similar to yours).
How long will my ad run?
Where will my ad appear?
Do you design the ad and the copy, or do we?
Are there editorial or advertorial opportunities? Can you submit an article with your own byline or short editorial?
Getting the answers to these questions is the first objective. Next, go through this list internally:
Does this opportunity align with my business or advertising goals?
What are my advertising goals?
What kind of opportunity is this? (Branding, lead gen, sales, etc.)
Does this opportunity get my business in front of my potential customer?
Is this trackable? (call tracking, website clicks, lead collection, specific coupon code, etc.)
How much is a customer worth to my business? What is the lifetime value?
How much am I willing to spend for a customer? Can I do that with this opportunity?
Depending on the opportunity, there likely will be other questions that accompany this list. Start here, however, and you're on the right track.
Interested in digging deeper into your current digital marketing strategy? Book a 15 minute no-hassle strategy session today and see how you size up with your competitors.